A Snapchat private story is a custom story feed that lets you post videos and photos for only those individuals you decide to give access to. Recognizable by the padlock icon 🔒, regular 24 hours of viewability is standard, but public followers will not be able to see these story posts.
Funny Names | Creative Names | Offensive Names | Names For Women | Names For Men | Depressing Names | Gym/Lifting Names | Our Top Picks
Social media puts people's lives on review for the world to see. If you don't want your employer to see you at the club, violate your children's privacy, or share intimate details about your new boyfriend with those who aren't close friends, most platforms offer the option to restrict who sees your post.
On Snapchat, Tik Toc, Facebook, and Instagram, some content can be kept out of the public eye through private stories that a select group can enjoy. Those not invited to access the page can request access, which the owner can honor or refuse.
Due to the increase in privacy and exclusivity, private stories have become quite popular amongst groups of friends, family members, coworkers, business owners, influencers, and more, due to the increase in privacy & exclusivity.
Each private story can be named by its owner, which means creators have several possibilities when coming up with a custom private story name.
There are plenty of private story name ideas, themes, and approaches you can take before deciding on a name, so let's dive into a number of them to inspire the best private story name for you.
How To Create A Snapchat Private Story
Step #1


Step #2


Step #3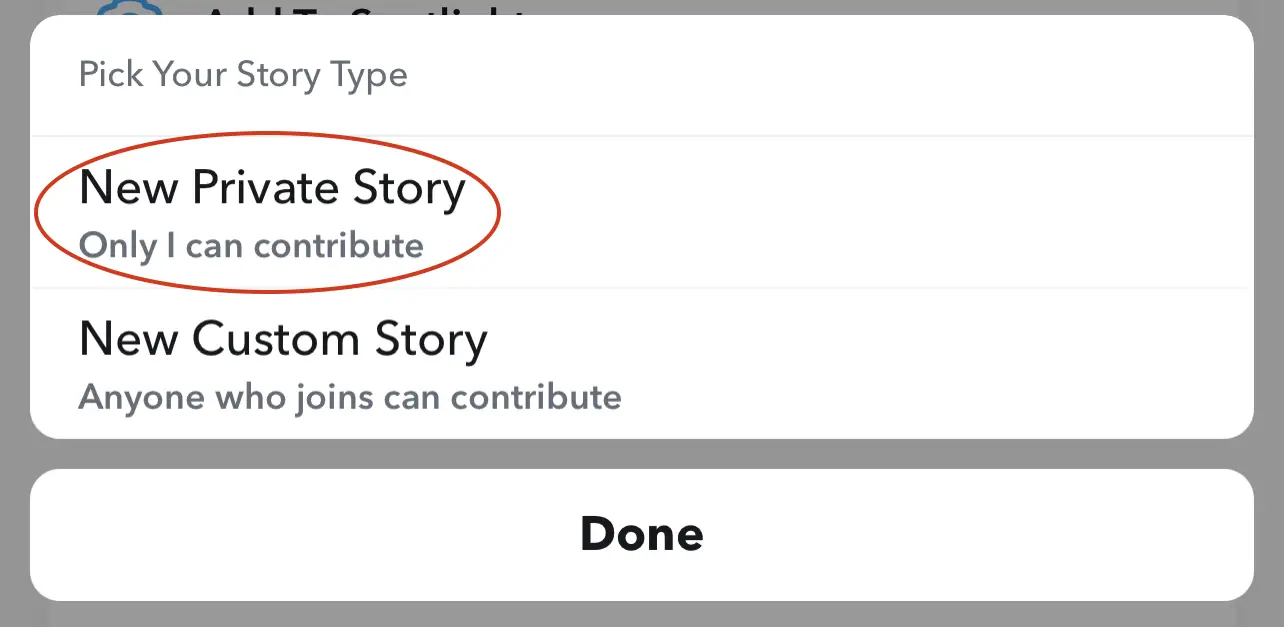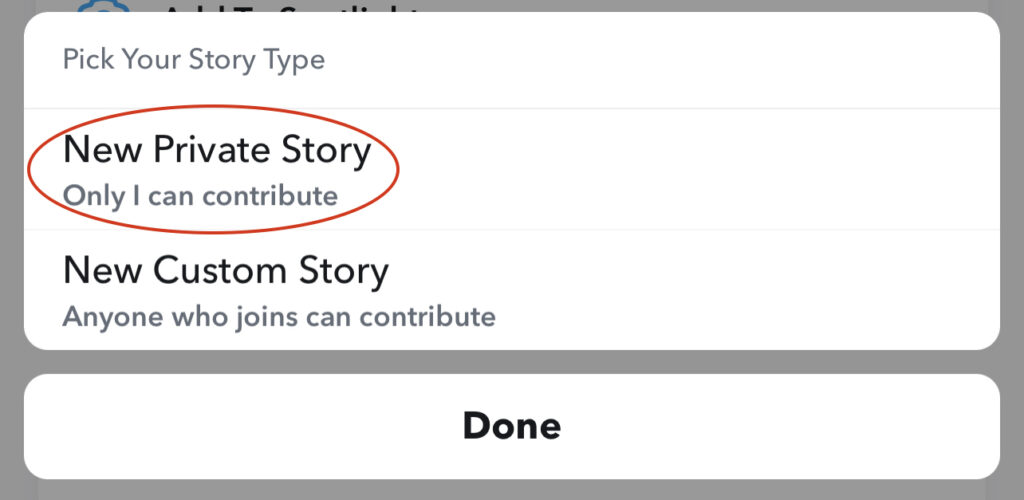 Step #4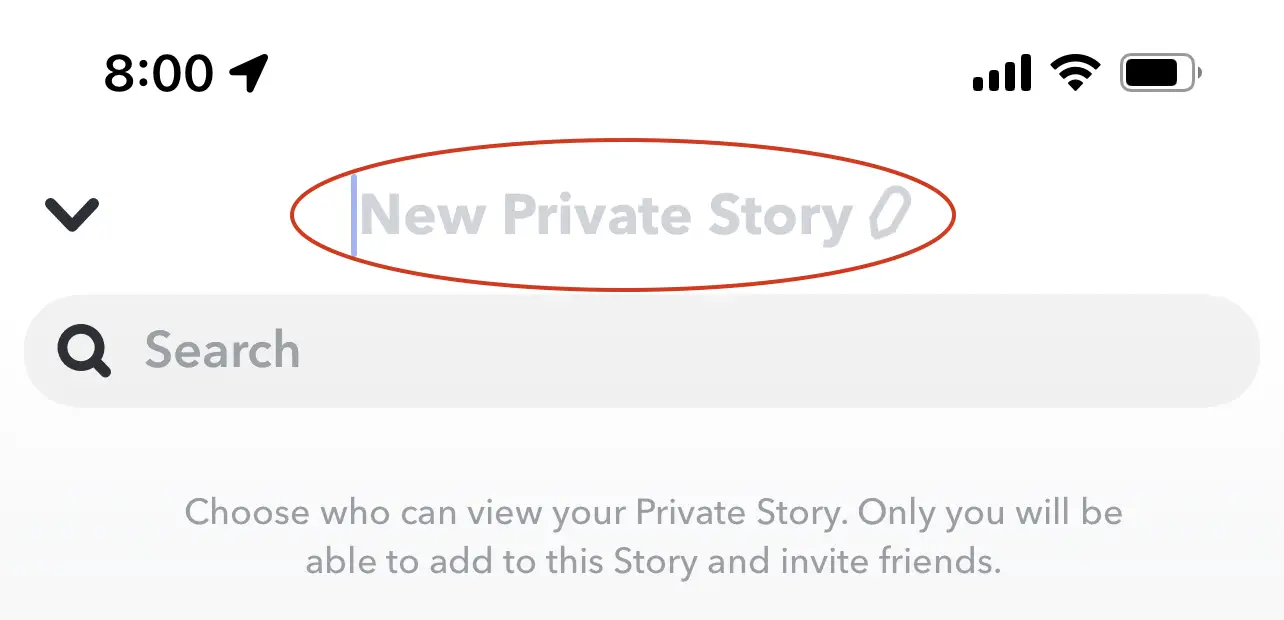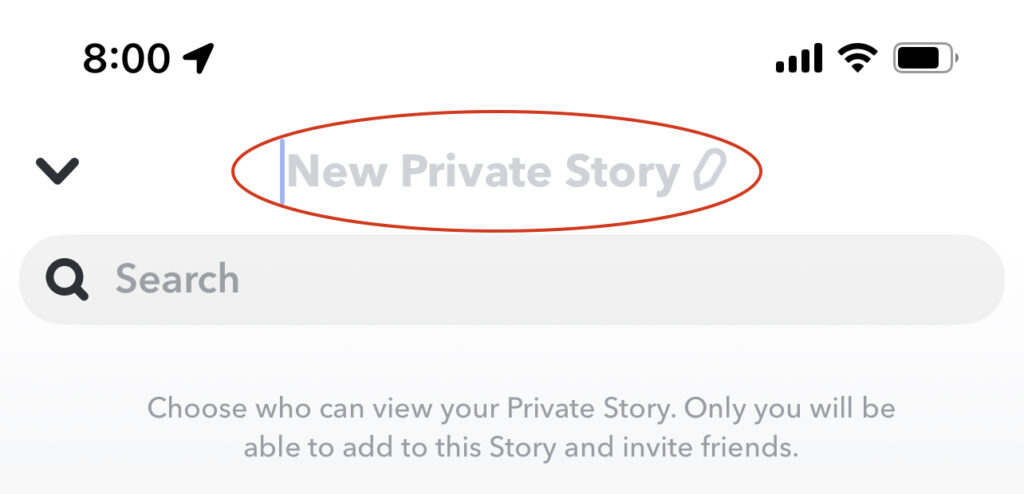 Step #5
Start adding friends to your new private story!
Snapchat Private Story Name Ideas
In naming a private story, the goal is to make it enticing to potential viewers so that they come back repeatedly to view new content – but not so racy that the site forbids it. An effective private story name can reveal the content in different ways.
For example, pictures or videos about a wedding might be straightforward or give off a particular vibe. For example, the private name can be:
Informative as to the content. Jane and Dick's Wedding, D&J'S Wedding Outtakes, Jane's Bachelorette Party In Bahai
Funny. Jane and Dick's Ultimate Hookup, Bedded Then Wedded. J&D's Marital Money Suck
Self-effacing. Boring Wedding Snaps, D&J's Nuptial Shit Show
Sarcastic. Too Late To Call It Off, D&J's Ball & Chain Diary
Sexy. Jane Gets Dick, Hard Times of Dick & Jane
The possibilities for private names for different content are endless. The name should appeal to the intended audience. The fictional bride and room above might invite Aunt Mary to view the informative album, casual friends to view the self-effacing photos, and close friends to see the sexy or sarcastic ones.
A group with a private name need not reflect an event but can be about feelings, interests, memories, or anything geared to any age group. The names should be personal and fun without being racist, sexist, or offensive in violation of the social media platform rules.
Why the names you might choose are endless; here are some ideas in popular categories.
Funny Private Story Name Ideas
While "funny" is in the mind of the beholder, names like those listed below sound intriguing enough to encourage friends to look and comment on the content.
"It's Complicated."
"Whatever"
[Name]'s Boring Life
Bad Girl
Balls Of Steel
Bearded Dragon
Biggest Clown In Town
Brothers From Other Mothers
Could Be
Cuz I'm Worth It
Daily Gaga
Designated Drinkers
Don't Mess With The Best
Don't Tell My Mom
Drama Queen
Drama Club
Eye Of The Idiot
F*Ck It; I'll Try Again Tomorrow
First Time For Everything?
Goodbye To Boring Stories
Hot And Sticky
How To Get Away With Murder
Hungry For Trouble
I Am From Mars
I Don't Want To Be Alone Tonight
I Wish I Could Do That
I Woke Up This Way
I'm A Terrible Adult
I'm A Terrible Dad (Or Mom)
I'm An Adult Now
I'm Not A Celebrity, But
I'm Not Laughing
I'm Not Perfect
I'm The Best "Me" That I Know
I'm The Best Of My Worst
Inside The Womb
Just Like All The Other Girls
Just Like That
Lights On, Nobody Home
Mr. Lazy
Trash – Just Like Me
Creative Private Story Name Ideas
Creative names might be trendy, inspirational, thought-provoking, and clickable.
Are You Up For A Little Adventure? A Little Fantasy?
Be The Moment
By The Way, My Name Is…
Can't Stop Thinking About You
Enjoying The Moment
Frantic, Fleeting Moments Of My Life
Get Ready For An Adventure You've Never Experienced
I Need Help Taking Off
I Want You (To Know)
I'd Like To Keep It That Way
I'm Too Blessed To Be Stressed
If You Don't Live For This, Then You're Not Living At All
Imagine The Possibilities
Inspired By The Bold And Brave
Just My Typical Day…
Just Winning
Let It Rain
Let's Have Some Fun Tonight!
Life Is Way Too Short To Spend It On Hold
Look At Me Now!
Meme's All Day
Naughty Secret Lover
Over-Caffeinated, Under-Appreciated
Pimp My Story
Secret Passion
Something Interesting
Take My Clothes Off
The Coolest Kids
The Great Kiss(Es)
The Inside Scoop
This Is Not My Beautiful House
Twice The Pleasure. Double The Fun
Under Your Spell
Watch Me Do It
What A Drag
My Own Best Friend
You Do You
You Won't Believe!
Never Too Old For Play
Your Alibi, My Superpower
Your New Bf/Gf (Is Me)
Your Wish Is My Command
Good Vibes
Offensive Private Story Name Ideas
You may want a private name with a dark twist if you have an odd sense of humor. It might be offensive, insulting, sarcastic, or a bit twisted, but a dark moniker can liven up your social media for your friends.
Bad Kids Club
Big Bad Wolves
Bad Boys Only
Bloodsuckers
Carry On, Wayward Sons
Clan Of Lost Souls
Death Squad
Filthy Rich Gang
Flying High
Freaks And Geeks
We're the F*@$ing Cool Kids
Gangstas United
My OnlyFans
My Chamber of Secrets
Our Sh*t
Politically Incorrect Squad
Our Sh*t
Suckers Born Every Minute
Tax Evaders
The Best Of Friends
The Broken Hearts
The Chatroom Of Doom
The Circle Of Trust
The Dark Lords
The Dead Chat
The Fear Mongers
The Gang Of The Living Dead
The Gangsters!
The Ghosts!
The Good, The Bad, And The Ugly
The Human Race
The Midnight Gang
The Newbies!
The Nightcrawlers
The One-Percenters!
The Psycho Killers
The Secret Society
The Small Minds
The Tax Cheats
The Vampire Hunters
The Walking Dead
The Zombies Are Coming!
They Are Among Us
This Is The End, My Friend
Too Cool For Schoolers
Why Should I Trust You?
You Talk About Us! We Don't Care
Your Worst Nightmare!
Female Private Story Name Ideas
Many so-called boys' names could work for girls, but here are some tailored to female posters.
5th Period
Altered States
Badass Barbies
Bad Bitches
Baddies
Beer Babes
Betty's Braids
Bored Beauties
Brainiacs
Busy, Busy, Busy
Chick Lit
Crybabies
Diet Cokers
Disney Princesses
Ditzy Divas
Dreamcatcher
Eye Of The Love
Female Diversity
First-Timers
Food Frenzy
Freakin' Hot
Girl Almighty
Girls Just Wanna Have Fun
Girls Trip
Gossip Girls
Hey Daddy
Hot Mamas
Ice Cream Social
Just Did It
Karens-In-Training
Lizzo Lovelies
Lucille Ballers
Mona Lot
Motivators
My So-Called Life
No Bra Club
Pawesome Friends
Picture This
Pink Pretzel
Salad Eaters
Science Chicks
Sorry Mom
Social Butterflies
Too Much Coffee
Trash Talkers
Virtuous Vegans
Welcome To My Mind
Private Story Names For Guys
Both males and females may want a private story group for friends of the same sex. Some amusing ones for boys include:
Are You Lost, Babygirl?
Best Buds Only
Boy Who Smiles At Strangers
Boys Will Be Boys
Can I Have Your Number?
Cars And Bars
Chunky Eyebrows
Crazy And I Know It
Sleeping Late
Dude Magnet
Everything Is Awkward
Gucci Gang
Guys Just Wanna Have Fun
Here Comes Trouble
Here We Go Again
Hood Gang
I Just Really Like Girls
Ladies Man Extraordinaire
Live From The Streets
Living Lowkey
Look Both Ways Before You Cross My Mind
Loose Lips Sink Ships
Lunch In Prison
Mental Surgeon
My Life Is A Waste Of Time
My Next Girlfriend
No Trolling
Plot Twist
Quit That. Download This.
Same Old Same Old
Spare Me The Details
Takes One To Know One
The Constant Complainer
The Joke Machine
Kiss and Tell
The Shy Guy Nobody Knows
The Stupid Factory
The Truth Hurts
This Is How I Roll
Why Am I So Cool?
Depressing Private Story Name Ideas
Some private story names are downright depressing.
Gym Private Story Names
Have a private group of guys or gals you like to get swole with? You're not alone!
Here are several private story name ideas for your spotters, gym buddies, and workout mates.
Sweaty Sock Puppets
Swole Mates
We Pick Up Heavy Things
Gainz Gang
Gainz All Day
Never Skip Leg Day
Creatine Choir
HIIT Me Baby One More Time
AMRAP Club
DOMS Support Club
Hypertrophy Winners
My Macro Count
One Rep Maximizers
Superset Squad
Wannabe Weightlifters
Gym Selfies Only
WOD Whisperers
Gym Newbs
Pump Princesses
We Use Too Much Chalk
PR Hunters
Good Private Story Name Ideas (Our Top Pics)
Our lists of private story names suggest the many possibilities for such names. If you want to establish private groups on social media, put some time into developing a name that will encourage interaction from your audience.
Here are our top pics from across all categories:
4 Hours To Lunch
Altered States
Carry On, Wayward Sons
Clan Of Lost Souls
Diet Cokers
Karens-In-Training
Live From The Streets
Lizzo Lovelies
Mental Surgeon
The Constant Complainer
Try this list for some more inspiration: 1,400+ ChatBot, AI & Bot Names