Popular Russian Dog Names | Unique Russian Words | Famous Russians | Breed Specific Names | Male Russian Dog Names | Female Russian Dog Names | Russian Dogs In Space
To up your canine naming game with something different, Russian dog names offers expanded choices that are strong, meaningful, and unique.
Why limit your field of choice to the names popular in the US such as "Bella," "Max," "Luna," "Charlie," "Lucy," "Cooper," "Daisy," and "Milo" when dozens of intriguing choices await your consideration?
Why Choose A Russian Dog Name?
Many dog breeds originated in Russia. If you own a Siberian Husky, Black Russian Terrier, Samoyed, Borzoi, or a rarer breed like the Caucasian Shepard, Central Asian Shepherd, Karelian Bear Dog, Russian Toy, South Russian Ovcharka, or Russian Tsvetnaya Bolonka, bestowing your pooch with a Russian name celebrates their origin.
Even if your dog is a standard breed, you might want to go for a popular, unusual, strong, cute, or unique moniker. If you were mesmerized by Russian athletes in the recent Olympics, love Russian literature, or find their culture fascinating, there are plenty of names in each category. As various dog breeds are known for their temperaments, general qualities, and size, you can pick something that emphasizes a characteristic.
All names have a meaning, but if you want a name that stresses a particular quality such as "peace," "strength", "dominance," or "beauty," there are plenty of choices to consider as well.
For a bit more inspiration, click here to peruse our list of 200+ Russian Names.
Most Popular Russian Dog Names
If you are going for a name that sounds like a good match for your new canine family member, the most popular ones are:
Alexei (a variation of Alexander, meaning "defender of mankind")
Anastasia ("resurrection")
Annika ("grace")
Boris ("wolf")
Demetrius ("follower of Demeter," the Greek goddess of fertility and farming)
Dimitri or Dmitry (a variation of Demetrius)
Irina ("peace")
Katya ("pure")
Michail ("follower of God")
Natasha (Russian form of "Natalie," meaning "born on Christmas day")
Nikolai ("victory of the people")
Oksana ("praise be to god")
Sacha ("defending warrior")
Sergei ("servant")
Svetlana (luminescent)
Viktor ("conqueror")
Unique Russian Words That Make Good Dog Names
The Russian language contributes a few words that name common things that would make excellent canine names.
Bolshoi ("large")
Borscht (red beet soup)
Ikra ("poor man's caviar)
Kukla ("doll")
Mechta ("dream")
Molodaya Zenchina ("young woman")
Pashka (fruit and egg custard with cream cheese)
Schenok "("puppy")
Sobaka ("dog")
Sputnik ("satellite")
Vodka (an alcoholic beverage made from potatoes)
Yozhik ("hedgehog")
Dog Names Inspired By Famous Russians
"Putin" might not rank high on any list in view of the current Russian war in Ukraine, but there are a host of artists, dancers, athletes, and historical figures to inspire a canine name
Breed Specific Names
Some dog names are commonly used for particular breeds, although these names are not exclusive to pups of a breed. For example…
Black Russian Terriers have been popular since the 1950s as military and training dogs. Popular names for them include: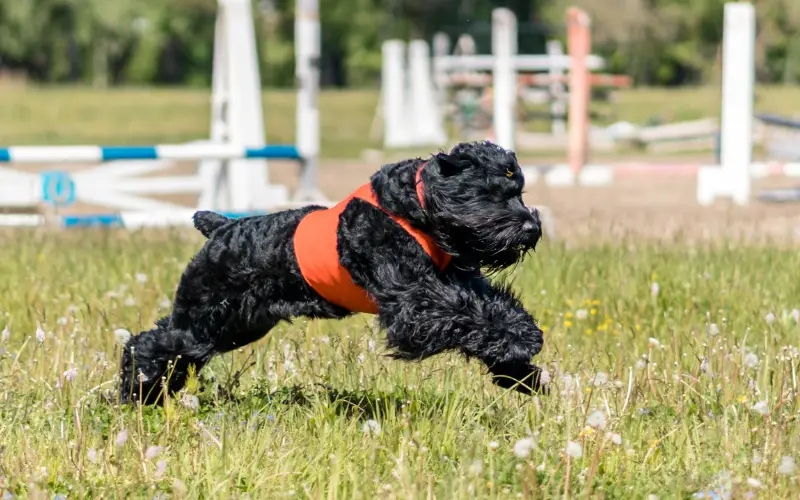 Apassky
Grusha
Iolanta
Julija
Kapeka
Kata
Katerinka
Klara
Kolyma
Lara
Liouba
Liza
Lyuba
Lyubov
Manya
Marfa
Matryona
Nada
Nadya
Natalia
Nataliya
Nijinsky
Nika
Ninel
Ninochka
Nona
Nonna
Nureyev
Ogafia
Ogafin
Rahil
Tatar
Caucasian Shepherds are a Russian breed that hails from the Caucasus Mountains between Eastern Europe and Western Asia. They can stand 34″ tall and weigh up to 220 pounds, are working dogs that do well in cooler climates.
Jelena
Lenusya
Patya
Petya
Prokhor
Prokopiy
Rachmaninoff
Rada
Radomil
Raisa
Rolan
Romanov
Rurik
Ruslan
Searfim
Shura
Solzhenitsyn
Spiridon
Stas
Taras
Tchaikovsky
Terenti
Timour
Tit
Toma
Ustinya
Valeri
Varya
Vasili
Venedikt
Veronika
Vikenti
Vitali
Zakhar
Siberian Huskies are named after the Siberian region they hale from.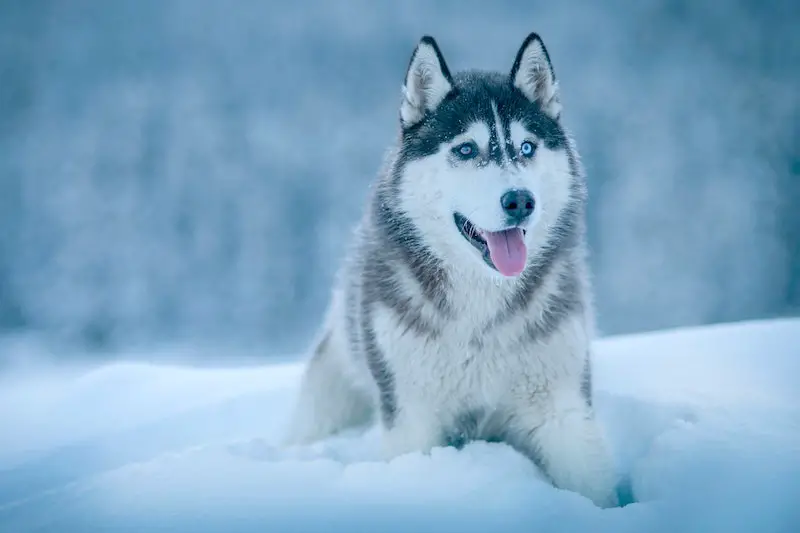 Adrian
Alexei
Andrei
Baikal
Boris
Dimitri
Evgeny
Galina
Igor
Irina
Katya
Kirill
Luka
Maxim
Oleg
Pavel
Siberia
Sonia
Svetlana
Viktor
Popular Male Russian Dog Names
Some classic Russian pet name ideas for male dogs include these choices:
Aleksandr ("defender of mankind")
Alek (short for Aleksandr)
Anatoly ("sunrise")
Andrei (Russian form of Andrew, meaning "manly")
Artem ("healthy, sound, wholesome")
Daniil (Russian version of Daniel, meaning" "god is my judge")
Darya (Russian version of Darius, meaning "wealthy")
Feliks (Russian form of Felix, meaning "lucky")
Fyodor ("gift of God")
Grigory ("watchful") 
Igor ("warrior of peace")
Ivan ("God is gracious")
Konstantin ("constant, steadfast")
Lev ("lion")
Luka (Russian form of Lucas or Luke, meaning "light")
Makar ("blessed")
Misha (a form of Michael, which means "who is like the Lord." It can also mean "bear cub")
Nikolai (a form of Nicholas, meaning "victorious" or "conqueror of the people") 
Oleg ("holy")
Pyotr (Russian form of Peter, meaning "rock")
Sasha ("the defender of men")
Vladimir ("of great power, ruler of the world") 
Popular Female Russian Dog Names
Russian female dog names are beautiful variations of familiar names you know well, but with a Russian twist. Here are just a few options:
Adelaida ("noble")
Aleandra ("defender of man")
Alina ("beautiful")
Calina ("snowball tree")
Doroteya ("God's gift")
Ekaterina
Evgenia (Russian form of Eugenia, meaning "noble")
Galina ("calm, tranquilL)
Katerina (Russian form of Katherine)
Kira ("ruler")
Lada ("name of the Slavic goddess of beauty")
Lidia (Russian form of Lydia, meaning "woman from Lydia")
Manya (Russian form of Mary, meaning "sea of bitterness")
Margosha (Russian form of Margaret meaning "pearl")
Masha (nickname for Mary)
Nadia ("dew, generous")
Nikita ("unconquerable")
Olga ("blessed, holy")
Polina (female variation of Paul, meaning "petite" or "tiny")
Sonia (Russian form of Sophia, meaning "wisdom")
Svetlana ("luminescent")
Tanya ("praiseworthy")
Valeriya ("strong")
Yelena (Russian form of Helen, meaning "shining light")
Russian Dogs In Space
Canines were an important part of the Russian space program. The names of the participants might offer some interesting down-to-earth for modern dogs.
Albina
Bars
Belka 
Bobik
Chernushka 
Damka
Dezik
Dymka 
Kometka 
Kozyavka 
Krasavka
Laika
Lisa
Lisichka
Malyshka
Modnitsa 
Mushka 
Otvazhnaya
Pchyolka 
Pushok 
Ryzhik
Shutka 
Smelaya
Snezhinka
Strelka 
Tsygan
Tsyganka
Zhemchuzhnaya 
Zhulka 
Zvyozdochka 
The Russian language and culture offer a vast number of potential puppy names. We have curated some of the best choices for you.
---
For more dog name inspiration, review our other lists below;